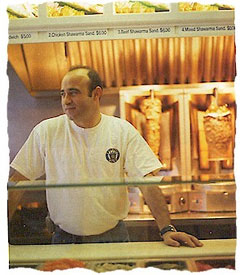 WHERE Canada Magazine
Article By Julie Chu
January-February 2004, Calgary Edition

Hello My Name Is...

"Fauzi Salem. He's the man behind the crown at the Falafel King™. Originally from Lebanon , his philosophy is to treat his customers like good friends and the line-ups, sometimes spilling onto the side walk outside, are proof of the restaurant's hospitable and homey atmosphere. "That's one thing I'm good at--food and customer service," he says. "I love cooking and making people happy." Salem grew up in the restaurant biz--his family managed a restaurant in Lebanon much like this before he immigrated to Canada 14 years ago. The Falafel King™ started in 1994 and has been so successful, Salem hopes to expand.

Their specialties are falafel (tasty fried chick pea) and shwarma (slow-roasted chicken or beef) sandwiches, all made-to- order with fresh ingredients inside a pita. Try the melt-in-your-mouth baklava, a crispy pastry with pistachio and light syrup, and their fresh-made juices, shakes and cocktails in flavours like strawberry and grapefruit (803 - 1 St SW, 269-5464)."

FFWD Weekly - Calgary 's News & Entertainment Weekly
Article By Miles Pittman
September 13, 2001

Falafel King™

"First Street S.W. between 8th and 9th Avenues has turned into a restaurant row. In one block, there's a week's good lunches - Divino, Piq Niq, Juan's, Cafe de Caffe Mauro and, rounding out the group, Falafel King™, home of the best shawarmas I've had in town. There are several places where you can get "donairs" in Calgary , but none where everything seems as fresh and as messy as at Falafel King™. It works a bit like Subway - you start at one end of the counter, with the pita open, having chosen chicken, beef or falafel (the chicken and beef having been recently cut off the spindle behind the counter). And then the staff build the shawarma as you wish, including hot sauce (which appears to be straight sambal oeiek, a southeast Asian pepper preserve that's hot as Hades), garlicky yogurt sauce, tahini, and then red onion, preserved beets (a real treat) and other veggies. They roll it and grill it. This last step is the piece de resistance - it emphasizes the contrasts essential to a good Middle Eastern sandwich. The hot meat and pita contrast with the cool veggies and sauce; the spicy hot sauce with the yogurt; the crisp pita with the cooked meat. Man, it's good. And it's $6. The sauce spurts out of the waxed paper all over everything, and you have onion/ garlic/ hot sauce breath all afternoon. But who cares?"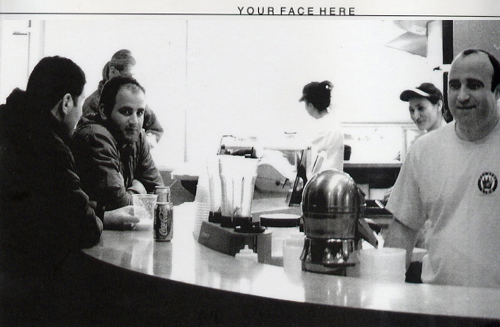 Face: Fauzi Salem, 35, owner of Falafel King. I like food, I like people, and here I am - the King!

What makes you the Falafel King?
It's a unique, different and special place where health and taste meet.

How long have you been the king? And how has 8th Avenue changed during that time?
I've been the king for nine years. The avenue is better now - it's more dynamic.

When you make yourself a falafel, what do you put on it?
Everything - and I love it.

Who is the heir to the falafel throne?
My sons!

How competitive is the falafel business?
Everybody likes it here, so there is no competition.

What's your favorite thing to have for dessert?
Baklava and fresh juice.

As someone who is Lebanese, what are your thoughts on the current situation in Lebanon?
It's sad, and I'm hopeful for a better and free Lebanon. We need the truth and Mr. Hariri. God bless his soul. We will miss him!